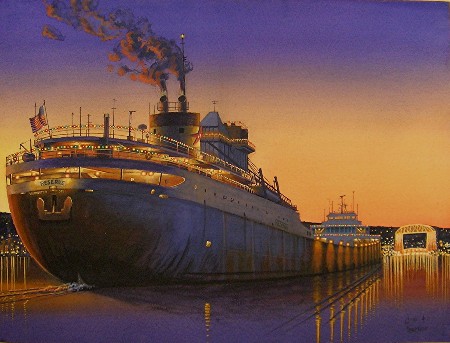 Reserve Christmas
Igen print (13x9 in.) $45,
(32x26 in.) framed original available $4000.00,
(13x9 in.) Giclee print $65, (20x14in.) Giclee $85,
(24x18 in.) Giclee $95
Pkg. of 6 Christmas cards/envelopes (5x7 in.), $18.00
In the midst of the 1998 Christmas season and a mere week before the holiday itself, the 767' S/S Reserve departs the Murphy Fuel Dock in Duluth, MN. The Oglebay Norton Marine Co. vessel is outbound Duluth and headed for the Aerial Lift Bridge with a cargo of taconite pellets loaded at the Missabe (now Canadian National) Docks in west Duluth. With a destination of Todedo, OH, the Reserve will be back in Duluth within 6 days to once again load taconite for Toledo's Torco Docks, then railing the cargo to AK Steel in Middletown, OH. Few of the crew of 27 will be able to be with family for the holiday on a vessel so festively decorated with the lights of the season, Christmas with family will have to be celebrated when the Reserve ties up for the season in mid-January.
The Reserve was named in honor of Reserve Mining Co. whose mine was located in Babbitt, MN and shiploader was located in Silver Bay, MN. Oglebay Norton had an extensive, long term contract with Reserve Mining, now called Cliffs Northshore Mining